"I'm here for your views Marcos, and I'm not leaving without them."
-From Darkosatsu's Debut Transformation Darkosatsu, other wise known as ProtoDubs, is the Dark Rider Version of Marcosatsu.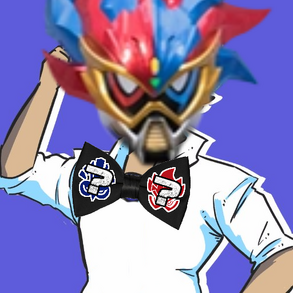 He was Revealed in the most Recent Arc of the Marcosatsu series: "The Tower of Hez Birb Powez Arc"
He seems to be on no one's Side and Transforms with Bowties, as Opposed to Marcosatsu's Transforming Device, Ties.
The game he appeared from is Identity Crisis but he transforms using the Bowtie Dual Gear Proto which has PERSONALITY PUZZLE and KNOCKOUT MEMORY.
He could also possibly be allergic to blue cheese.
It was unknown when he was created, but he seems to have a Unnatural interest in Marcosatsu.
The actor of Mach / Gou from Kamen Rider Drive also portrays all instances of Darkosatsu. This might be a reference to how ProtoDubs, Darkosatsu's alter ego,
created an english fandub of the Gold Drive vs Mach fight.
Darkosatsu hates Circle K pizza, and it is one of his only known weaknesses
Community content is available under
CC-BY-SA
unless otherwise noted.